Angela Anderson
---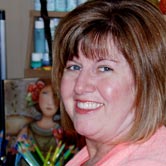 The course for Angela Anderson's life was set at a very young age. It happened when a visitor to her school opened her eyes to the joy of art.
"When I was in 1st grade an artist came to our classroom to show her work," she explains. "I was instantly fascinated with her art, personal style and carefree attitude. I met her daughter years later in the 6th grade and she has been my best friend ever since."
Angela's own artwork is full of folksy charm and celebrates the seasons as well as the simple things in life.
CheckAdvantage is proud to present select works of Angela Anderson on personal checks, address labels and checkbook covers as part of our Licensed Artist Series.
Angela began her career pursuing commercial art, but she discovered a new way to share her talents with the world when she was asked to paint decorative accents on a baby's nursery.
She says children continue to influence her art as do other things that are close to her heart.
"I am inspired by my mom's flower garden, the local antique stores, family and friends," she says.
You'll see many of those themes in her paintings on wood and canvas. Acrylic is her medium of choice, but Angela also creates with watercolor and colored pencil.
Her art has a distinct simplicity that exudes a feeling of laidback country living. From warm, sunny beach scenes and quaint birdhouses, to smiling snowmen and pumpkins in autumn – there's something sentimental and familiar about her work. It feels like home. And that's why so much of her art fits perfectly on all types of home decor.
Angela says she just want to cheer you up and make you smile.
Learn more about this artist at angelaanderson.com and Follow Angela Anderson on Facebook.