Anna Valencia-Bruch
---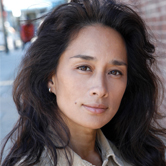 Anna Valencia-Bruch has loved drawing and painting since she was a little girl, but thought a career in hotel management would be a more successful avenue.
It didn't take long for her to change her mind. After suffering through classes she wasn't that interested in, she leapt back into art.
"After one semester of accounting and lugging around giant marketing books I decided to take an art class and that was the end of that!" she says. "I moved to New York City to pursue the artist way!"
CheckAdvantage is proud to present Anna Valencia-Bruch's designs on our checks, address labels, and checkbook covers as part of our Licensed Artist Series.
Anna went on to major in Fine Arts at the School of Visual Arts in New York City. After that, she spent many years as an art director and graphic designer in the music industry.
She's up for creating with pretty much anything—watercolors, acrylics, pencils, and even Adobe Illustrator or InDesign. Her illustrations are cuddly, naughty, quirky, and a bit sexy and funny while her style includes a lot of layers and textures.
Over the years she worked with Universal Records, Sony Music, and Virgin Records designing packaging for Rock, Rap, Country, and R&B artists such as Nelly, India Arie, Teena Marie, Pat Green, and others.
More recently, she's started designing for events like the Breeders' Cup and Chai Lifeline— a nonprofit that provides emotional, social, and financial assistance to children who've been born or diagnosed with serious illnesses.
It was her family that finally led her into licensing. Her cousin Debra Valencia first turned her on to the idea while her sister Marisu Valencia motivated her to give it a try. In fact, both are also licensed artists with CheckAdvantage!
Outside from art, Anna's greatest passion is her 6-year-old son Jagger. She says he loves it when they make "stuff" together and that he's proud his mama is an artist.
"He's my heart and soul," she says. "My goal is to create a children's book character modeled after his goofy, charismatic quirky self!"
If you want to learn more about Anna, check out her website at annavalencia.com. You can follow the links to see her work for the singer India Arie and learn more about Chai Lifeline.