Caroline Simas
---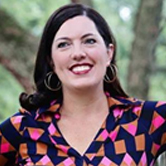 Blessed with her grandfather's artistic talent, Caroline Simas has always had a sure sense of purpose in her life.
She began designing from the moment she could hold a pencil, and soon had succeeded at exploring the various different parts of her identity.
"I knew from age 6 that I wanted to grow up and be three things: a mother, a teacher and an artist," she says. "I feel so fortunate to have been all three."
CheckAdvantage is proud to present select works for Caroline Simas on our checks, address labels, and checkbook covers as part of our Licensed Artist Series.
Caroline lives in Charlotte, North Carolina. A mother of four, she creates illustrations for products in home décor and for the gift industry such as: pillows, furniture, ceramics, cups, coasters, and much, much more.
To create her distinctive works, she uses hand-painting techniques with watercolor, gouache, and acrylic. She also makes mixed media pieces using unique elements and patterned paper designs. No matter how far she comes in the industry, she is always passionate about evolving her techniques.
"While my art may have a recognizable style and niche, I will always experiment with color and technique to keep my designs inspiring and fresh," she says.
Her faith definitely plays a big part in her joyful and uplifting work and she says she's inspired by the beauty of nature and all of, "God's creation."
"I strive to see the extraordinary in the ordinary…water droplets on flower petals, the color palette of the sunset, the chartreuse green of a granny smith apple, the intricate pattern of a monarch butterfly, heart shaped rocks, the pattern of freckles on my children's faces," she says.
Caroline also draws much from her four children who spend a good amount of time in the studio with her. Through their gaze, she finds the bright, inspirational world that makes its ways into her work. Above all, she hopes to bring this joy to her viewers.
"My hope, passion and prayer is that the products I design bring faith and joy into people's lives and homes, stirring hearts to be a blessing to others," she says.
You can follow her work by visiting her website and blog at multipleblessings.com. Be sure to check out her Facebook page Multiple Blessings by Caroline Simas for news and updates.