Debbie DeWitt
---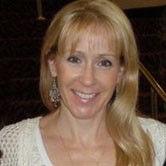 Licensed artist Debbie DeWitt has a knack for creating attractive vintage artwork that's full of warmth and nostalgia.
Living in New York City, where diverse cultures, traditions and ideas meet, there are plenty of things to spark her imagination.
"I get inspiration from many different places," she says. "It could be walking around NYC and seeing a cool, old wrought-iron fence or a vintage piece of fabric or wallpaper. It could be at a museum or flipping through the gazillion home decor catalogs I receive."
CheckAdvantage is excited to present select works of Debbie DeWitt on checks, address labels and checkbook covers as part of our Licensed Artist Series.
As a child, Debbie was always in need of art supplies. She made the decision to become an artist in high school, and remembers receiving plenty of encouragement from her teachers.
She then attended the Art Institute of Chicago and planned to pursue a career as a professional artist. However, she fell in love and started a family first.
Art took a bit of a backseat while Debbie focused on her family. But when her youngest child started school...so did she. Debbie enrolled at Parsons School of Design in New York and jumped right back in.
"I loved every minute at that school!" Debbie says. Today you'll find her unique designs on products at large retailers across the country.
While she began working with oil paints, Debbie discovered that acrylic paints are the best medium for her to work with, especially for the style in which she specializes.
"I switched to mostly acrylics when I got into this business because of the infinitely quicker drying time of the paint," she explains. "I also began experimenting with painting on plywood, and the acrylic paint seemed to take very nicely to it to create the vintage looks I was going for."
Debbie strives to produce artwork that is designed to lift the spirits of those who see it.
"I hope my art brings people comfort and peace. I enjoy creating inspirational pieces that I hope remind them of the beautiful world we live in and how blessed we all are," she says.
Discover more about this artist when you visit debbie-dewitt.pixels.com. You can also Like Debbie on Facebook.