Donna Knold
---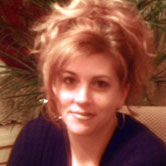 Donna Knold held her first art show when she was only four years old.
Her father walked away the happy owner of all her crayon drawings, and then took her to the store to buy her very first set of charcoal pencils. She was hooked after that!
With the love of her supportive family, Donna began a long career in art working on book illustrations, licensed art, and even interior and apparel design.
"I have wanted to be an artist as long as I can remember," she says.
CheckAdvantage is excited to present select works from Donna Knold on checks, address labels and checkbook covers as part of our Licensed Artists Series.
Donna lives in the historic town of Liberty, just north of Kansas City in a 1920s home. With a husband, four daughters, three cats and two dogs it's a full house indeed!
When she begins her creative process, she prefers to start "the old way", painting by hand with gouache and watercolor. Once she's finished, she adds in color with pencil and ink.
Using her degree in graphic design, she works on the computer to add in layers and finish her work digitally. Though she loves the flexibility of being able to move and delete items, nothing can replace the joy of working by hand.
"There is no substitute for the feel of the paper, brush, and paint," she says.
Inspiration comes to Donna in many forms. She's inspired by anything that catches her eye; nature, architecture, fashion, and pretty much anything.
No matter what she creates, she tries to add a splash of whimsy and bring light to the world of her viewer.
"Simply put, if I can brighten someone's day, that's the best reward I could ask for as an artist," she says.
To see more of Donna Knold's art, please visit her profile at cruisecreative.com.