Khristian A. Howell
---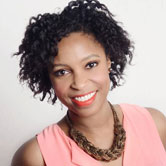 Khristian A. Howell knows how to pick the right moment to jump on opportunity.
While living in Seattle, she confidently walked into the Nordstrom headquarters and landed a job as a colorist. Five years later, she left to pursue a life as a full time licensed artist.
Today, she sells her art on stationery, calendars, prints, and all kinds of accessories. Through it all you can see her passion for art and the fierce determination and impeccable taste which makes it a delight for all viewers.
"It was one of those things that you don't choose - it chose me. I'm so glad it worked out that way," she says.
CheckAdvantage is proud to offer the colorful, balanced work of Khristian A. Howell on checks, address labels, and checkbook covers as part of our licensed artist series.
In college, Khristian went into advertising for the layout and graphic arts classes while keeping her eye on fashion. Since then, she's worked with Better Homes and Gardens, Eddie Bauer, Shutterfly, HGTV.com, and many more.
Her style is a sort of floral, fabric design meets Coco Chanel. It's full of bright colors and fun shapes while being fashion forward and undeniably cool and modern. In the end, she hopes her art will make viewers feel current, bold, adventurous, and even a little sexy.
Digital is her medium. When she has time, she loves to sketch in paper and ink and then scan into the computer to finish the process. She is also excited to start experimenting with some new media soon.
Khristian is a big believer in the importance of journeys. She's written an eBook called Obsessed which is about her journey and how a drive to succeed can conquer all hardships.
"The obsession is what will fuel your fire to get up every day and create. It will chain you to your desk writing email after email to your dream clients . . . Most of all, it will keep you telling people I love what I do, and will have it no other way," she says on her website.
To see more of the artist's work go to her site at khristianhowell.com. You can also check Khristian out on her Facebook and Pinterest pages.