Margaret Berg
---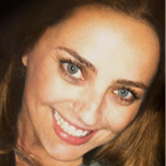 Born and raised in South Africa, Margaret Berg's passion and favorite pastime was creating art, whether that meant painting, drawing, or making ceramics.
In 2000, she left her beloved country to pursue her creative passion and study at Otis College of Art and Design in Los Angeles. Since then she's had a long and illustrious career in art, which has now culminated in running her own business.
"Since I was a child, art is what came most naturally to me," she says. "By age 16 I knew art would be my path."
CheckAdvantage is proud to present select works from Margaret Berg on our checks, address labels, and checkbook covers as part of our Licensed Artist Series.
After she graduated from the Illustration program at Otis, she wanted to work as a freelance illustrator. However, Margaret needed full-time employment to secure her Green Card.
For the first seven years of her career, she worked as an Art Director in Entertainment Advertising, creating movie posters and working as a retoucher/finisher. It was a great career, but gradually she returned to her original calling.
She started building up a collection of new illustration work and exhibited at Surtex, an international show which also serves as a global marketplace for original art and design.
"That was the start of a new and wonderful career in Illustration and Art Licensing," she says. "I feel so blessed."
Outside of art, she is deeply spiritual with a passion for God, nature, connection, joy, peace, and love.
Ultimately, it is her unique whimsical and sophisticated style, which engages the viewer deeply.
Margaret relies on watercolor, pen, and ink for her unique mix of texture and color.
"I love the unpredictability and spontaneity of the medium," she says. "Colors mix and flow in ways I can't predict or control. You let go and let flow."
To read more about Margaret Berg and see more of her designs, go to margaretbergart.com.