Nicole Tamarin
---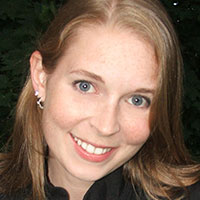 Even though Nicole Tamarin always loved working with her hands, her path to art wasn't a straight one.
In seventh grade, a speech from a freelance illustrator made her consider design, but she didn't take classes until she was a junior in high school. Later, she earned a BFA with departmental honors from the Massachusetts College of Art, but didn't use it for almost a decade.
All of that changed when Nicole decided to pursue art three years ago. She launched her business in May 2012 and completely changed the direction of her life.
"I went from a full-time job which was completely unrelated to art to really choosing the career I wanted," she says. "I educated myself, changed where my energy went and reinvented where I was going in life."
CheckAdvantage is happy to present the bright designs of Nicole Tamarin on our checks, address labels, and checkbook covers as part of our Licensed Artiest Series.
Nicole loves to create, decorate, and manipulate all that is around her. Her husband once called her the "MacGyver of all non-threatening situations" and her mother says she's been "busy since birth."
In addition to her BFA, Nicole explored the use of space, color, pattern, and texture while working for an interior design firm after college.
After years of study, she's developed a distinctive style. Though her illustrations are quite traditional, her palettes and subjects are more modern. Her love of classic themes and attention to detail makes her work delightful to behold.
Even though a quick glance at her selection will prove that she has no shortage of ideas, there are some days when they don't come easy to Nicole. On those days, getting past the block can be a trial.
"It's funny when this happens because you start to wonder if it was just a fluke that you had ever made anything of value at all!" she says.
When inspiration does strike, it's her favorite thing in the world. She loves getting so swept up in idea or project that she can completely lose track of time.
Armed with her undying passion for art, Nicole has at last found her way to the business she was always destined for; creativity.
"When I'm not making or painting or producing something my world doesn't feel right," she says. "Creativity will always make its way out, even if you don't mean it to."
To see more of Nicole's work, check out her website as nicoletamarin.com. Be sure to like her Facebook page Nicole Tamarin Illustration and Licensing. You can also follow her on Pinterest and Twitter.