Sally Evans
---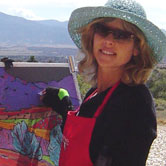 Sally had a BFA in Graphic Design and Fine Art from the University of South Carolina and was beginning her career as a graphic artist when she realized something. She was bored.
However, a vacation to the deserts of the Southwestern United States changed everything. During her trip, she was introduced to artists from the area whose dramatic use of color stirred her soul.
That was when Sally realized her lifetime goal was to become a fulltime painter. She's been following that dream ever since.
CheckAdvantage is happy to present select works of Sally Evans on our checks, address labels, and checkbook covers.
Expressive use of color and bold designs are the hallmarks of Sally's style. Though she started with watercolors, she now enjoys pastels, acrylics, and mixed media.
Many things inspire Sally, and she paints everything from the beaches of Florida to the deserts of New Mexico and Arizona. Coming from the south, Sally finds the colors of the desert a refreshing change.
Sally is also inspired by dogs, cats, horses, and many other creatures. Her love even extends beyond her art. The artist works with numerous charities to make life better for animals. This includes the Tour of Turtles, Bow Wow Haus, and Chairs for Charity.
Her art has even been featured on posters and t-shirts for the Humane Society of Northern Pinellas County in Florida. At the moment she is working with Reignfree.org, an organization that raises awareness to help rescue wild mustangs in the west.
Sally's paintings have been exhibited all over the United States and her work is collected by corporations such as the Tampa Bay Magazine, US Airways, The St. Joe Company, Coca Cola Corporation, and Chili's Corporation.
Since Sally is published by Winn Devon Inc. of Canada, her lithographs have appeared onscreen in the TV show Nip/Tuck and the movie American Dreamz.
No matter what she does, Sally's passion for color, the Southeastern landscape, and animals shows through. Many years after abandoning her career as a graphic artist, she truly is achieving her dream.
If you want to see more of Sally's work, you can visit her website at sallyevans.com.