Stacy Peterson
---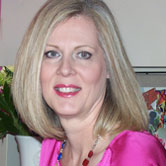 There was a point in Stacy Peterson's career as an art director that was filled with photo shoots and jet-setting around the country - including plenty of time in New York and L.A.
After nearly two decades of what she calls a "whirlwind lifestyle," Stacy was ready for something new. So she broke out on her own as a licensed artist. But things didn't exactly slow down...
Stacy developed her own brands of cute characters and colorful prints. Plus, she's designed games and crafts for American Girl, mouthwatering imagery for Brach's Candy and illustrated dozens of children's books. She's even worked on books with Madonna.
CheckAdvantage is thrilled to present select works of Stacy Peterson on checks, address labels and checkbook covers as part of our Licensed Artist Series.
When she was just a kid, Stacy's mother encouraged her natural talent for drawing. Classic television played a role in developing her fun-loving style. Opening credits to shows like I Dream of Jeannie and My Three Sons were early inspirations. You'll definitely notice some retro flavor in her designs.
"I grew up in the late sixties and seventies - so that era definitely influences my work," she explains. "The fun and modern designs can be seen in many of my collections."
Stacy's work has a vibrant youthfulness that is perfect for young people as well as the young at heart. As luck would have it, she has some very knowledgeable consultants helping her reach the right audience.
"My inspiration also comes from my children," she says. "In fact, I run the majority of my youth and tween designs by them for their input."
The selections you'll find on CheckAdvantage offerings come from the signature Stacy Peterson Collection®. She's also created the brands Pinky Swear Pals® and Stacy Daisy Do®.
Most of Stacy's artwork starts with pencil and paper. She digitizes those drawings and then adds the eye-popping color on her computer.
"I like the ability to refine the sketches. For me, clean design is important. The art should flow and have energy," Stacy says.
Find out more about this artist and her artwork when you visit stacypeterson.net. You can also connect with Stacy Peterson on Facebook.