Chelsey Schmitz
---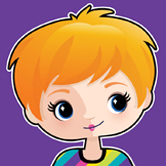 When we're kids, the grownups always tell us that watching too much television will rot our brains. But perhaps the right dose of the right programs can actually be inspirational.
It was while watching her favorite Saturday morning cartoons that artist and illustrator Chelsey Schmitz first realized what she wanted to do with her life.
"I wanted to make art just like that when I grew up," she says. "As I got older, the attraction for obnoxiously adorable art never changed."
If it makes you go "Aawww!" then Chelsey says she's done what she set out to accomplish.
CheckAdvantage is thrilled to present the artwork of Chelsey Schmitz on personal checks, return address labels and checkbook covers as part of our Licensed Artist Series.
These days you'll find Chelsey designing eye-popping packaging for popular toys like Barbie and My Little Pony. She also creates whimsical storybook illustrations, most often using digital tools.
"I like the sense of complete control that the computer gives you," she explains." I feel as though I can create very crisp imagery with the exact colors I want."
Ever since she was young, Chelsey has been fascinated by things that are cute, colorful and imaginative.
"Anything with rainbows, unicorns, sparkles or glitter really caught my eye," she says. And that part of her personality never really faded away. "Even today I feel as though my thirteen year old self is still alive and well - perhaps my muse - if you will."
Besides creating cute characters, Chelsey strives to tell a tale with each illustration. She wants you to connect with that cartoon-watching kid inside of you too.
"I hope that even my most simple of drawings tell a story or evoke a memory to the viewer," she says.
Learn more about this artist and see dozens of adorable illustrations when you visit chelseyschmitz.com. You can also connect with her when you Like Chelsey Schmitz on Facebook.