Cindy Lindgren
---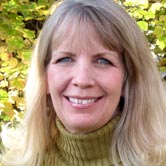 One of the first things you'll notice about Cindy Lindgren's artwork is all the brilliant blooms!
"I love the flowers and wildlife in the Midwest where I grew up in Iowa," she says. "I enjoy growing my own flowers to draw from and observing the birds and animals here in the Twin Cities as well as at our cabin in Northern Wisconsin."
With all the inspiration the outdoors has to offer, Cindy says she'll never run out of ideas.
CheckAdvantage is excited to present select works from Cindy Lindgren on checks, address labels and custom checkbook covers as part of our Licensed Artist Series.
Cindy was interested in all forms of art as she was growing up, and chose to focus on becoming an illustrator when she went to college. For many years, she worked as a freelance illustrator with graphic designers at various advertising agencies. Today, she has her own line of greeting cards, fine art prints, is a textile designer and a licensed artist for a growing number of companies.
Cindy's process begins with hand-drawing the chosen subject in pencil. She then finalizes the piece digitally with flat, vibrant colors. She likes the clean look of digital art, which gives her plenty of flexibility as well as unique color palettes.
"I call my style Craftsman Nouveau, Cindy explains."It's nature-inspired imagery in clean simple lines to blend with modern lifestyles."
She says she also draws inspiration from the Arts and Crafts Movement, which occurred around the mid 1800s through the turn of the 20th century. The international movement was led by artist and writer William Morris who happens to be one of Cindy Lindgren's favorites.
Cindy knows her art can bring comfort to the people who view it and it's rewarding when she gets to watch that happen.
"I see it firsthand at my art shows, when people respond to art they connect with, or it reminds them of a memory of their Grandma's garden or their own love of poppies," she says.
You can see more of this artist's work at cindylindgren.com where you can find out how to order prints and other merchandise. Plus, you can like Cindy Lindgren on Facebook to keep in touch.