Clara Nilles
---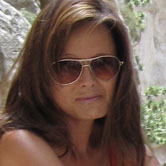 Artist Clara Nilles has found a way to put a little extra wild in wildlife. Her unique paintings of animals are created with eye-popping hues.
"I create art from my heart; a love for animals in dazzling crazy colors. I believe color is the universal language that brings a positive energy to people and communicates strong emotions and mood," she says. "I also think that animals bring out the goodness and feelings of being with the earth."
Whether you're a kid or a kid at heart, Clara wants her art to have a timeless appeal that people of any age will appreciate.
CheckAdvantage is excited to present select works of Clara Niles on checks, address labels and checkbook covers as part of our Licensed Artist Series.
Clara will tell you art is in her blood, but she didn't always spend her days painting. For much of her life she worked in finance.
"I finally left the corporate world to pursue my true passion in life - of becoming an artist. I love what I do now and have never looked back," she says.
Clara mainly works with acrylic paints because of their vibrancy and her love of artistic experimentation.
"Since color is such an important part of my paintings, I study colors constantly. I'm especially drawn to unusual colors, unique color combinations, and new color trends," she says.
Art is always on her mind. Clara takes notes everywhere she goes as ideas for new projects pop into her head. She says she strives to create artwork with its own voice and personality. However, the ultimate goal is bringing happiness to people like you.
"My personal motto has always and continues to be: I paint to make folks laugh, love, and smile," she explains. "I guess I'm just full of joy when I paint and it naturally transfers onto my canvas!"
Learn even more about this artist when you visit claranilles.com. Plus, you can also check out Clara's Blog and connect with Clara on Facebook.