David Grossmann
---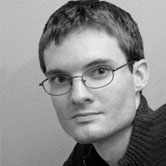 Award-winning painter David Grossmann just may have art in his DNA.
He comes from an artistic family, and some of his earliest memories are of drawing and painting. David's grandmother taught him to use oil paints at 10 years old, and his life-long dream of becoming an artist was always encouraged.
CheckAdvantage is proud to offer select works of David Grossmann on our personal checks, address labels and checkbook covers as part of the Licensed Artist Series.
Grossmann is accomplished in the artistic practice of plein air painting. Plein air is a French expression meaning "in the open air." David followed in the footsteps of legendary artists like Claude Monet and Pierre-Auguste Renoir who used the same method. He also trained with Valorie Snyder in high school and renowned artist Jay Moore early in his career.
Grossmann takes his paints and custom-made, wooden panels into the outdoors to create. The resulting works can be best described as peaceful and introspective.
"I like to think of my paintings as prayers and as visual poems," says Grossmann. "They are simplified rhythms of color, light and shape. On the surface they are quiet whispers, but I hope that they convey a depth of emotion to anyone who takes the time to stop and listen."
David spent the first 14 years of his life in Chile. The presence of the Andes Mountains, the Pacific oceans and all of the beautiful wilderness in that country had a profound impact on the artist.
He was recently able to return to Chile, and took a backpacking trip through Patagonia, during which he painted the awe-striking scenery he encountered.
David also spent much of his life in Colorado, and finds inspiration in the American west as well as throughout creation.
"What inspires me to create art is the feeling of being in God's presence," Grossmann explains. "I feel that most clearly when I am outside, wandering through nature. My art is an attempt to capture that feeling."
The artist hopes those who see his oil paintings have the same meaningful experience, adding peace and beauty to their lives.
You can find out more about David Grossmann's art and view available works at davidgrossmann.com.