Debbie Lewis
---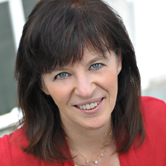 You could call Debbie Lewis an accidental artist, but not if you believe everything happens for a reason. The ups and downs of Debbie's life give her a unique perspective, which have helped her become the artist she is today.
Debbie is self-taught in the practice of watercolor painting, a skill she developed well into adulthood. She specializes in landscapes, picturesque buildings and scenes by the water.
Often inspiration comes from her surroundings in Long Beach, California, which she now calls home. Sometimes it comes from words of wisdom, such as in The Way to Happiness (TheWaytoHappiness.org) which will be featured in 2013 in a special series at CheckAdvantage.
CheckAdvantage is excited to present the artwork of Debbie Lewis on personal checks, address labels and checkbook covers as part of our Licensed Artist Series.
Even though Debbie found her calling a little later in life, she always had the heart of an unorthodox artist.
As a young person, she knew she wanted to help other people and thought a degree in psychology was the right choice. She quickly discovered academia didn't have the answers, and left college after just one day in a psychology class. Debbie then traded in her new car for an old VW Camper and decided to travel the country instead.
Debbie has an extremely uplifting worldview, despite dealing with more than her fair share of catastrophic occurrences. She underwent a traumatic, near-death experience after an operation in the '70s. Her husband was shot in the chest on Hollywood Boulevard and survived. Several years later she would lose him to cancer.
It was while Debbie was recovering from a debilitating recurrence of mononucleosis that she discovered her love of creating art. She began drawing before eventually getting "hooked" on watercolors.
At first her art was just a hobby. Then people started taking notice.
"It wasn't until someone asked to buy some of my paintings that I realized I had gotten quite good and could actually be an artist for real and share my work with others," Debbie says.
Now sharing her art is something that brings Debbie satisfaction and happiness, especially when that happiness is also being shared.
"My strongest hope is that my paintings make people smile and feel good," she says. "If looking at my art hanging in their home or office every day adds a bit of joy to their lives, that makes me very happy."
See more of Debbie Lewis' artwork and request commissioned paintings at debbielewiswatercolors.com. You can also read more of her story at meetdebbielewis.com and connect with the artist when you like Debbie Lewis Watercolors on Facebook.