Drew Brophy
---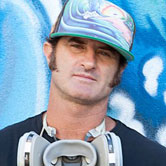 If you ever feel like it's impossible to spend your life doing what you love - just look at surf artist Drew Brophy.
A high school guidance counselor once warned him he couldn't surf and paint his whole life. But that's exactly what Drew does. He's become well-known for radically transforming surfboards, skateboards, vans and much more. He also creates vibrant murals and other original paintings.
"When people ask me what I do, I tell them that 'It's my job to make things look cool!'" Drew explains. Now he is taking on the challenge of making personal checks look cool. And he nailed it.
CheckAdvantage is excited to present select works of Drew Brophy on checks, address labels and checkbook covers as part of our licensed artist series.
Drew Brophy is able to focus on his art while his wife and partner, Maria, runs the business side of things. Together, they've spread Drew's art around the world. It has been licensed by many recognizable brands including Converse Chuck Taylor All-Stars, Ugg Boots, Palisades Skateboards, a line of boogie boards from toymaker Wham-O and many more.
However, the Brophy family's life is about more than work. They take time every year to travel the world together going on a variety of exciting excursions. Drew explains it as creating a lifestyle of art, surfing and travel. It's also what fuels his artistic self expression.
"My greatest inspiration comes from my adventures of surfing, standup paddling and traveling. I spend several months a year exploring rivers, lakes and oceans all over the planet," he says.
If Drew's surf art looks familiar to you, that's probably because you've seen it before. His work often features huge crashing waves, vibrant sunshine, and of course, scenes of surfing. The eye-popping designs certainly leave a lasting impression.
"My style is very distinctive; once you see one of my paintings, you'll always recognize the style in other paintings," Drew says.
When he's not looking for adventure or working on a new piece, you might find Drew teaching others about art and finding happiness through the live events and workshops he hosts.
"My mission is to inspire generations of people to live the life of their dreams," Drew says." I strive to be the example for people to say, 'Hey, I can do that too.'"
Find out more about his unique art and his bold lifestyle at drewbrophy.com. There you can check out a gallery of work and even order some of your own. Plus, Like Drew Brophy on Facebook too!