Elaina Unger
---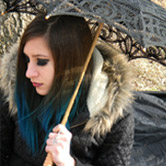 Lots of personality is what you'll get with Elaina Unger's art, because she's just plain in love with characters!
This is why the memorable and ghost-like figure Willy dominates much of her subject matter.
Described as a conglomeration of Eeyore, Sanrio, and Pokemon, Willy is silly and mischievous, yet easy to sympathize with due to his childlike manner and playfulness.
"Art is a world in itself with personalities and adventures, and there is a sense of fulfillment in the life an artist creates," she says.
CheckAdvantage is proud to present select works from Elaina Unger on our checks, address labels, and checkbook covers as part of our Licensed Artist Series.
Childhood nostalgia was a big impact in Elaina's designs. In fact, one of her biggest artistic influences is Craig McCracken—who created shows like The Powerpuff Girls and Foster's Home for Imaginary Friends. She also admires the work of Lauren Faust, who also works in TV animation in addition to animating for featured length movies like The Iron Giant.
"Everything around me inspires me to create art, such as my family, friends, heroes, other artists, music, movies, books- the list of inspiration could fill a novel," she says.
Adobe Illustrator is Elaina's tool of choice when she creates Willy and other characters because of the bright, clean colors it creates and how they appeal to the eye.
She's also been known to use traditional media for other artwork such as watercolor, acrylic, charcoal, and graphite.
Though Willy's specter-like appearance might strike you as being grim, he is fun and charming. Ultimately, Elaina hopes that her work is both relatable and amusing to her viewers.
"Life is filled with so many ups and downs, and sometimes the 'downs' are way too often and the 'ups' aren't often enough," she says. "I want everyone, especially those who feel they are stuck in the 'downs' part of life, to laugh and feel inspired when they see my characters.
If you're interested in seeing more of Elaina's work, be sure to check her out at studioelainaunger.com.