Custom Fonts
Make Your Mark With a Stylish Typeface
What's Your Type?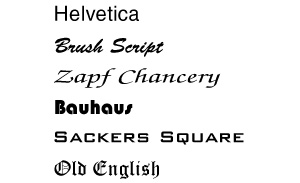 At CheckAdvantage, we are dedicated to bringing you unparalleled selection and value in your check buying experience.
That's why we offer a number of customized fonts for those who are looking for an extra pizazz that our standard choice just doesn't offer.
Upon checkout, you can specify breezy Brush Script, distinctive Zapf Chancery, retro Bauhaus, elaborate Old English or staid Sackers Square for just $2.95!
It's just one more way CheckAdvantage provides the very best check buying experience anywhere online! Choose your type today!