Gina Linn
---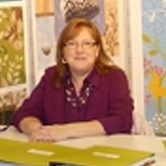 Gina Linn is proud that she's pursued and achieved a life-long career to establish herself in the commercial art world while continuing to flourish and evolve creatively. However, that is not her only triumph.
As a survivor of breast cancer, Gina has worked to give support and inspiration through her striking designs to all those fighting the disease.
"I have channeled that experience into creating a nurturing Pink Ribbon Design and I am pleased that it has been well received on numerous different products," she says, "I'm excited to add checks and labels to that growing list!"
CheckAdvantage is happy to present select works from Gina Linn on our checks, address labels, and checkbook covers as part of our Licensed Artist Series.
Gina Linn explored her talent for art at an early age. She worked hard to develop confidence as a creator, entering many contests throughout elementary and high school.
This conviction would lead her to a degree in commercial and visual art.
"That gave me the confidence to continue to pursue art as a career," she says. "And really, there was nothing else that I really wanted to do anyway!"
Over the years she's worked in different corners of the market, serving as a designer and layout artist for party goods operations and a small bookmark company. Her last big gig was working as an assistant design manager and senior designer for around 10 years.
Things changed when the company downsized in 2009, giving her the perfect opportunity to work for herself and license her art fulltime. Now, she works in several different styles, creating images that are decorative, colorful, meaningful, and uplifting.
She paints in acrylics and some watercolors while also using Adobe Photoshop and Illustrator programs to finish off her art.
"I don't want to be stuck in the same style or product category, I want to be able to expand and grow as an artist," she says.
As for her favorite part, she loves the conceptual stage.
"It's exciting to create an idea for art out of nothing, and then to see it develop and become something that others want to use on their products, is very rewarding," she says.
If you're looking for uplifting art from a woman of vast creative talent, check out Gina Linn today!
To see more of her work, visit her website at GinaLinnDesigns.com or follow her Facebook page.