Heather Gleason
---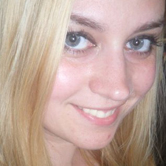 Heather Gleason's artwork is quite different from just about anything else you'll find here at CheckAdvantage. Even she describes it as "mostly weird."
Her creepy creations might even freak some people out. However, the intent of Gleason's gothic art is meant to be playful - not gloomy or menacing. She hopes to make you smile after you scream.
"It's not an in your face dark but just the right amount..." Gleason explains.
CheckAdvantage is excited to present the unique artwork of Heather Gleason on checks, address labels and checkbook covers as part of our Licensed Artist Series.
Like many other artists, Gleason was attracted to drawing and painting at a young age. But unlike the other kids, she was not coloring pictures of kittens and balloons. Her sketchbook was full of dragons and haunted houses.
"They would use crayons. I would use Bic pens. I started using ink at a very young age. I still to this day prefer to use ink, but most of the time use acrylics," she says.
Despite the shadowy look of her work, Gleason has always been inspired by the warmth of her family. Her mother encouraged her to pursue art professionally, and she sold her first piece at the age of 17.
Today Gleason is a mother herself and enjoys creating with her own children around. She believes that the comfort of familiar surroundings is an essential part of getting the artistic flow going.
"I don't use an easel to paint. I sit on my couch and get into my work - canvas in my lap," she says. "If the canvas is huge, I lie on the floor and get comfortable."
If you have fond memories of the Halloween season, or a special place in your heart for scary movies, Gleason's artwork is just what you're looking for. "I want people to bring out those wacky memories and emotions," she says.
Visit myeclecticmind.com to find out more about this artist and view other merchandise featuring her work - including jewelry, iphone cases and original paintings.