Jaison Cianelli
---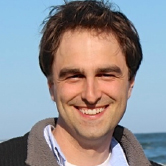 Award-winning, abstract artist Jaison Cianelli says the process of painting does some incredible things for him on a personal level.
"Having a creative outlet and using the imagination helps overcome obstacles and allows one to grow because it is a practice in reaching for something more and stepping beyond familiar ground," he says.
Cianelli explains that he is often inspired by the creative process itself. When painting a new piece, he says he can feel the artwork "rekindle a connection to something divine."
CheckAdvantage is proud to present select works from Jaison Cianelli on checks, return address labels and checkbook covers as part of our Licensed Artist Series.
Each abstract artist has his own visual language. While some may think of abstract art as random and disorganized, you will notice that much of Cianelli's work has a direct connection to nature. Cianelli actually looks for a rhythm as he paints.
"It is fluid and free, and moves to express how life constantly flows," Cianelli says.
His process is just as unique as his work. Jaison places his canvas flat on the table and uses a modern painting technique of dripped-on paint texture, which gives his work a gracefully energetic appearance. Some have even described it as "a form of controlled paint splatter."
Cianelli also works with digital mediums, often mixing things up with photography and scanned artwork.
"I enjoy the process of combining these different techniques and images together in layers, transforming them further as I go, to create a composition that I could not entirely foresee because it is the end result of a journey," he explains.
Creating awe-inspiring works of art makes Cianelli a happier and more fulfilled person. Yet he also hopes the emotions he experiences are passed on to those who view his work, and that you'll appreciate the common themes of openness, freedom, movement and energy.
Find out more about this artist when you visit cianellistudios.com. There you can find information on how to purchase originals and prints. Plus, you can also connect with Jaison on Facebook.