Jeanetta Gonzales
---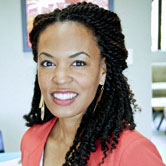 Jeanetta Gonzales started learning how to draw at a young age by tracing over the pictures of her favorite cartoon characters in coloring books.
As she got older, she got her first camera and graduated to photos. She even recruited her dolls and little dog to serve as her subjects. Is it any surprise she ended up an artist and graphic designer?
"Attending art school was a no-brainer. I knew I wanted to do what I love and work in a creative career," she says.
CheckAdvantage is proud to present select works from Jeanetta Gonzales on checks, address labels, and checkbook covers.
In school, Jeanetta had a foot in two different worlds earning degrees in fine art and graphic design. Today she's as comfortable creating with traditional methods—gouache, pen, and ink—as she is with digital styles.
"I tend to go back and forth and incorporate both in my work," she says. "I love the combination of the two and how a painting can change dramatically once it has been manipulated in Photoshop."
After spending 13 years in the graphic design industry, Jeanetta is a pro at packaging, branding, surface design, and product development.
She's also found her foothold in the licensing business and is a founding member of the group Art Licensing LA. They're a collaboration of six diverse artists who create fresh designs for everyday products.
When it comes to her art, Jeanetta's style is loose, sketchy, very happy and feminine. She loves to use texture found in nature and color in her work.
The beauty of her surroundings is where Jeanetta finds inspiration. As she goes about her daily life she might be struck by the color of her food, soapy windows through a car wash, or even the weathered texture on signage.
"I am always seeing things, moments, color and composition. I think that is the nature of a creative person," she says.
Visit Jeanetta Gonzales' blog at jeanettagonzales.com for links and one-stop shopping. You can also Like her Facebook page Jeanetta Gonzales Art and Design or check out her Pinterest.