Josephine Kimberling
---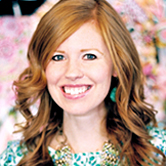 The vivacious designs of Josephine Kimberling blend the worlds of art and fashion with a fun-filled flourish.
Josephine's artistic style can be found on a variety of products such as fabrics, stationery, gift bags, paper crafts, handbags – even cake!
"Art and creativity have been a constant thread throughout my life," Kimberling says. "I distinctly remember being five years old and talking about what I was going to be 'when I grew up' and deep inside knowing being an artist was the calling of my heart."
CheckAdvantage is excited to present select designs from Josephine Kimberling on checks, address labels and checkbook covers as part of our Licensed Artist Series:
Like many passionate artists, Josephine is driven to convey her perspective through her artwork.
"I've always needed to express myself creatively - to get my voice out through my hands," she explains.
Josephine's illustrations combine digital and hand drawings to create stylish designs full of bright colors and feminine flair. You'll notice a modern look combined with a vintage twist in much of her art, which stems from a love of vintage styles.
Josephine worked as a professional artist for over 10 years, in the fashion industry designing textiles and forecasting trends for Nordstrom. She also designed stationery and gift-wrap for Hallmark. In addition to the desire to become an artist, Kimberling also had a dream of working for herself one day. That dream became a reality when she left the corporate world to pursue her passion in 2011.
While she keeps an eye on what is popular, Josephine always manages to inject her unique personality in everything she designs.
"I seek to create patterns that utilize current trends but with my own distinctive touch," Josephine says. "I love discovering and creating a new color story or pattern direction. It's what keeps my mind fresh, keeps my heart beating a mile a minute, and propels me forward."
Kimberling lives in Seattle, Washington. Her artwork can be found on a wide variety of products featuring her unique prints.
Find out more about this artist when you visit josephinekimberling.com. Plus, you can follow Josephine Kimberling on Facebook too.