KAB Designs
---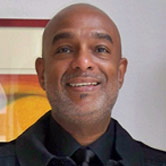 Keith Banner's background is as colorful and diverse as his art.
Over his many years as a painter and freelance artist, he's lived in: New York City, Nassau in the Bahamas, Los Angeles, California, and has finally come to rest in Albuquerque.
"Coming from a very creative family life, as a child, I was always surrounded by colorful art," he says. "I always knew I wanted to do something creative/artistic. It was never a second thought."
CheckAdvantage is happy to present designs from KAB Designs on our checks, address labels, and checkbook covers as part of our Licensed Artist Series.
Keith works in paint, photography, and computer generated art. These contemporary creations—both abstract and not in nature—are pleasing to the eye and human spirit.
His Caribbean background has been a major influence in his use of color and texture, two important considerations in his artwork. His style changes from varied ethnic designs to modern abstract art.
As a child he began with colored pencils, crayons, and pastels before turning to painting. In his professional life, he used oils and acrylics for many years and then returned to school to become more computer literate along with studying graphic design, etching, and sculpture.
"This knowledge and skill were the catalysts that opened the door to a whole new and exciting way to express my artistic passion," he says.
An exhibition at the Toronto Dominion Bank launched his career. Soon, Keith went on to work for himself designing art for greeting cards and textiles at "Kab Designs."
Over the years he has studied at many schools including the Otis Parson School of Design, Los Angeles Trade Technical College, Pierce College, and others. He has also had exhibits in a number of galleries throughout California and New Mexico.
Keith's work has even garnered critical acclaim. In 2012, his poster design "Crenshaw" was chosen for the 2012 Los Angeles African American Heritage Month.
Not only is Keith inspired by architecture, fashion, and interior design, he is deeply moved by life experiences and the joy that creative and artistic expression brings to him.
It's this joy which he hopes to ultimately pass on to his viewers.
To see more of Keith Banner's work, check out his website at kabdesigns.org or Like his Kab Designs Facebook Page.