Kay Smith
---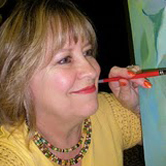 Nationally recognized painter Kay Smith practices two kinds of art - one is visual the other involves healing. Both allow her to help others find health and happiness.
"What I love most about my work is that people bring dreams and memories to the art," Smith says. "I have spent over 30 years in the healing arts as a nurse, and fine art allows me to share feelings, emotions and desires through paint paper and brushes."
Kay Smith believes art is much more than just a decoration. That's why she likes to say "Good art won't match your sofa!"
CheckAdvantage is excited to present select works from Kay Smith on checks, address labels and checkbook covers as part of our Licensed Artist Series.
Smith fell in love with watercolors two decades ago when she took her first class using the medium. Today watercolor paintings make up the majority of her work, but she also creates collages and uses oils, pastels as well as mixed media.
In 1995, Smith opened Brushworks Studio in Big Spring, Texas where she paints and also gives workshops for aspiring artists. One piece of advice she gives is not to get too serious about creating.
"Know always that your creative process ought to be fun!" Smith says in her artist statement. "When you take time to play, eventually you'll discover the joy of painting and your creativity will merge together."
A variety of national art publications have featured Smith's work, which she describes as "fun, contemporary depictions of everyday things..." She says she became an artist to improve the world through creative joy and personal expression. But she also believes there are big benefits for artists too.
"Learning and practicing fine art encourages and develops perseverance in the human spirit," says Smith.
See more of Kay Smith's paintings and purchase available works when you visit kaysmith.artspan.com. You can also discover her methods and artistic philosophy when you check out Kay Smith's blog.