Ken Meyer Jr.
---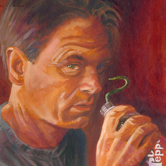 Ken Meyer's father was in the U.S. Air Force, and as it goes with most military families, there was a lot of moving around.
That can be tough on any kid. But Meyer found refuge inside the stories and artwork of comic books. He remembers tracing his favorite characters at the age of seven in his grandmother's kitchen, which is how he learned to draw.
Today Ken Meyer Junior's long client list includes Marvel Comics, Dark Horse Comics and role playing game publisher - Wizards of the Coast. He's also helped create online games, worked with recording artist Tori Amos, the American Cancer Society, the military and even Penthouse magazine. Meyer is particularly proud of work he's done for Bell Helmets' 50th Anniversary.
CheckAdvantage is excited to present the artwork of Ken Meyer Jr. on checks, labels and checkbook covers as part of our Licensed Artist Series.
As a freelance artist, working with such a wide variety of clients, Meyer has learned how to be flexible.
"I have to be well rounded and ready to take on any artistic challenge," he explains. "Some works are meant to generate happiness or contentment, others might be designed to inspire dread...all depends on the assignment or the piece I am doing."
The love of drawing that started as a kid grew into an appreciation of other mediums as well. Meyer now enjoys working with watercolors, but also uses a mix of media including acrylic, ink and charcoal.
"I gravitate towards dramatic lighting and human subjects mostly. That is how I ended up doing a lot of the macabre art done for role playing games over the years," he says.
Meyer has earned both a BFA in Illustration and a MFA in Sequential Art from the Savannah College of Art and Design. In the future, he'd like to teach art and illustration at the college level.
Discover more about Ken Meyer Jr. and find out how to request commissioned work when you visit kenmeyerjr.com. You can also connect with the artist on Facebook.