Kerne Erickson
---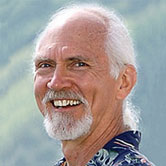 Kerne Erickson landed in southern California in the mid-1960s. Originally from Wichita, Kansas, he was attending the Art Center College of Design on a scholarship from General Motors.
However, by the time he graduated in '69, Erickson's plan to design automobiles had been replaced by a new dream - becoming an artist.
Today his award-winning acrylic paintings of scenic landscapes and vintage travel inspired art can be found all over the world.
CheckAdvantage is thrilled to present select works of Kerne Erickson on checks, address labels and checkbook covers as part of our Licensed Artist Series.
The retro-look of Erickson's artwork reflects his artistic process. He has chosen not to use high-tech, digital image editing tools used by many artists. Instead he prefers to paint the old-school way. Each piece begins with a line drawing, followed by underpainting and eventually the addition of vibrant colors and intricate details.
Erickson's projects can take six weeks or more to finish, but the final result is a lush painting that portrays both realism and a sense of the metaphysical. His art is warm, refreshing and inviting.
Erickson wants his paintings to act "as a counterpoint to our modern, often frenzied age." Before he even begins to create his retro artwork, the artist will spend time researching in order to accurately depict a certain era or style.
You may find Erickson working in his Orange County studio, or practicing plein air painting in the outdoors. Those are the times when he finds himself most inspired.
"Painting for me begins with a simple attraction to a particular scene, and a desire to do something in response to that attraction," Erickson explains. "Often I paint. Sometimes I just look, caught up in the moment, feeling...this is important. A painting can never actually equal the moment, but it is my record, my response."
In addition to being an artist, Erickson is also an amateur inventor. You'll find various gadgets around his studio, including a device that lets him paint large-form works in a small space. There's also a clever Rube Goldberg machine in his yard that waters his garden.
You can learn more about his artist when you visit kerneerickson.com. Plus, you can connect with Kerne Erickson on Facebook as well.
For more information on licensing Kerne Erickson's work visit Greg Young Publishing.