KiniArt™
---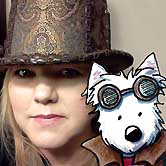 If you could look inside the mind of artist Kim Niles, you'd find thousands of dogs frolicking around in there.
We all want to be happy. When Niles was just a kid, she realized what brings her joy is the act of creating and sharing those creations with others. Throw in an obsession with animals and you get uniquely whimsical illustrations that are sure to make you smile!
CheckAdvantage is excited to present KiniArt™, the artwork of Kim Niles, on personal checks, address labels and checkbook covers as part of our Licensed Artist Series.
Like many other talented artists, Niles leads a double life, one in the real world and one in her imagination. "I've had a sort of dual citizenship between real life and my inner world from a very early age," she explains.
Childhood daydreaming may have led to some critical remarks from frustrated schoolteachers, but today Niles uses those daydreams to fuel her creativity. She has managed to maintain the same curiosity and zest for life she had as a little girl. As an artist, she is thrilled to see those who view her work experience the same emotions.
"One of my favorite things to do at an art-show is stand back and watch people as they look at my art," she says. "You can almost see their five-year-old selves in the twinkle of their eyes as the expressions on their faces are transformed from that of serious art appreciation to big beaming smiles as their inner-child meets my own."
Niles primarily works with colored pencils and Indian ink markers because the mediums lend themselves well to her original, quirky characters.
With all those animals running amuck in her imagination, there's no shortage of inspiration. Back in reality, Niles shares a home with just one dog and one cat. She knows the relationship between people and our pets is something special.
"There's an instinctive tenderness expressed when nourishing the bond between animals and humans. I like to think my art celebrates that bond in a very fun way," says Niles.
You can find out more about Kim Niles' work at KiniArt™, as well as her other licensed products when you visit kiniart.com.