Larry Grossman
---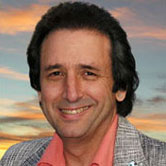 Artist Larry Grossman combines new age technology with old world skill to bring the past to life in his vibrant works of art featuring vintage scenes of classic cars, airplanes, and other retro Americana.
"A lot of my art harkens back to times past, my favorite periods being the 1930-50's," he says. "I think people appreciate and enjoy the nostalgic feeling they get viewing my work, it takes them back to what seems (in retrospect) like a simpler time."
Larry's personal life is styled much like his art. "I own two classic cars, often wear vintage clothes, and my house is decorated totally in the 1930's Art Deco style. So I guess I long for those simpler times (which really weren't all that simple) myself", he says.
CheckAdvantage is excited to present select works of Larry Grossman on checks, labels and custom checkbook covers as part of our Licensed Artist Series.
It wasn't too hard for Larry Grossman to decide what he wanted to do with his life. By the age of 15 he was already earning money using his impressive airbrushing skills to create custom designs on t-shirts at car shows. This income enabled Larry to buy his first car, a red 1929 Ford hot rod.
After decades of being an airbrush artist and photographer, Larry's eyes were opened up to a new medium in 1981. That's when he was hired by Disney Studios to work on the groundbreaking film Tron - the first movie to use computer technology in any significant way.
Although Larry now creates the majority of his work on his computer, he feels that it wouldn't look as it does had he not spent decades honing his craft with real paint, "which created a foundation" he says. Today his current process combines his own photography with his self-taught digital painting techniques. The result is a totally unique style, which Larry describes as "hyper real."
"The scenes I create never existed in reality, but usually people look at them and think they did, then they look a bit closer," he explains. "I love the illusion ...Rene' Magritte was a big influence!"
Larry has also created films of his own including Rude Vagabond, an award-winning animated short and The Big Sleeze, a feature-length comedic parody of 1940's gangster films, which he wrote and directed.
Learn more about this artist and see more of his creations at retrovisions.com. Larry also specializes in custom, personalized works that can put you, your car, or whatever into any of his works of art.