LuAnn Roberto
---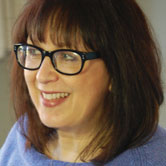 LuAnn Roberto wanted to be an artist since she was 12-years-old, but it was a loss that would lead her to licensing.
With the death of her mother, LuAnn began painting and printmaking to work through her grief. After six months, she started to show her pieces and was soon well educated in the licensed art world.
Using her strong advertising background, she easily made the addition to her business. That's how she came to create and sell her beautiful designs at LuAnnRoberto.com.
CheckAdvantage is proud to present work from LuAnn Roberto on our checks, address labels, and checkbook covers as part of our Licensed Artist Series.
When LuAnn first started out, she focused on advertising and graphic design at the Central Academy of Commercial Art—a private 2 year college in Cincinnati, Ohio. After graduation, she worked in various studios and ad agencies and moved to California to continue her career in 1984.
In 1989, she founded 411 Graphics which specializes in strategy, graphic design, and brand identity. Though she's had many successes in the business world, she's always looking for more to conquer.
"I'm pretty 'be here now' about what I accomplish," she says. "I do it, it's successful, and I move on, so I don't have just one thing I am proud of most."
While her professional work is tight and controlled, her personal style combines contemporary graphic design and old school monoprinting—a form of fine art printmaking.
Her images are multi-layered and some prints are enhanced with gouache, colored pencil, and marker. After that, she scans her images and uses digital skills to tweak color, lighting, and size. She loves the spontaneity and messiness of monotprinting.
"Whatever you paint will be backwards and get smashed when it rolls through the press," she says. "This has enhanced my daily design work and made me an advocate for trying the unexpected."
Outside of art LuAnn's greatest passions are marketing, networking, and coaching. Not to mention spending time with her crazy Italian family!
She's never short of ideas and pulls from vintage trends, found objects, urbanity and nature, or just her own life experiences. Her biggest challenge is not having enough time to create !
"I am influenced by collected finds, urbanity and nature, personal life experiences and seeing the humor in most things," she says.
For heartfelt work from a skilled artist, check out the designs of LuAnn Roberto today.
If you want to see more of LuAnn's work, check out her website at luannroberto.com.