MADART
---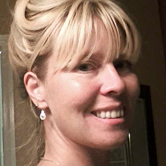 The only possible regret Megan Duncanson has about becoming an artist is that life is too short to get all of the ideas spinning around in her head out into the world.
"Creating art is such a huge part of who I am that if I'm not painting or drawing I literally go into withdrawals," she says. "Something as simple and beautiful as a bright flower or glowing sunset can make me want to hurry into the studio and paint!"
That insatiable need to create means Duncanson produces hundreds of paintings every year, which she offers up through MADART Designs.
CheckAdvantage is excited to present select works from Megan Duncanson's MADART Designs on checks, address labels and checkbook covers as part of our Licensed Artist Series.
Duncanson grew up in the bush of Alaska in a small fishing village where modern amenities - including roads - were scarce. She remembers art being a big part of her childhood. However, when she left for college, she decided to focus on finding a "real world" job.
Duncanson eventually got her Master's degree in Political Science, but she never stopped painting in her free time. One day, she put one of her pieces up on eBay...just to see what might happen. To her surprise, the painting sold after a bidding war ensued!
"From that moment on I decided to pursue art as a full-time career and haven't looked back since," she says.
Since first leaving the Alaskan wilderness, Duncanson has lived in beautiful Hawaii and met her husband in Florida. She's become a big fan of warm, tropical weather - but hasn't abandoned her roots. She and her husband own a cabin in the same small community where she grew up.
Splitting her time between Alaska and Florida allows Duncanson to draw inspiration from the beauty of both locations. She describes her art as "sophisticated whimsy with occasional pop-art flair and a touch of impressionism thrown in."
"I create art for the beauty of it, and always hope that translates to whoever sees it and ultimately brings them a feeling of happiness," she says.
See many more works from Megan Duncanson when you visit madartdesigns.com where you can purchase original art as well as prints and a variety of other products.