Miss Fluff
---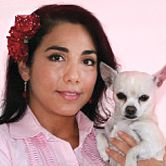 What do you get when you combine a healthy dose of retro style with a splash of sassy pinups and plenty of classic cuteness?
The imaginative art of Claudette Barjoud - better known as Miss Fluff - that's what!
Miss Fluff loves girly glamour. Her work is inspired by a wide range of pop culture influences - from Barbie dolls and Hello Kitty to vintage fashion and even cult filmmaker John Waters.
"I hope my artwork will make people squeal with delight!" She says.
CheckAdvantage is excited to present select designs from Claudette Barjoud's Fluff brand on our personal checks, address labels and custom checkbook covers.
Barjoud says she has been drawing and creating art ever since she was able to pick up a pencil. Her mind has always been bursting with creativity and adorability.
"I always dreamed of designing my own line of cute, sassy stuff inspired by vintage design - and always kept my ideas scribbled in a sketchbook for years," she says.
A job redesigning packaging and labels for Fredericks of Hollywood would give her the confidence to pursue her dream. Classic catalogs from the 1950s prompted Barjoud to create similar illustrations for the project. The result was a huge hit.
"I did my own version of cute, glamorous girlies for the packaging and the products started selling out! People even started collecting them," she recalls. "So they had me draw more and more! I was in heaven!"
Her success at Frederick's of Hollywood proved that she was on to something. Barjoud broke out on her own, started a business and became Miss Fluff. Her delightfully decadent and seductively charming creations can be ordered on everything from t-shirts and jewelry to stationary and handbags. There are even skins featuring the art of Miss Fluff for gadgets like smartphones, tablets and laptops.
Find out more about Miss Fluff's work and her many unique products when you visit fluffshop.com. You can also connect with Miss Fluff on Facebook for lots of fun updates!