Nancy Standlee
---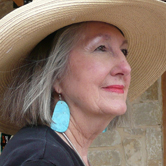 Award-winning, contemporary artist Nancy Standlee has a favorite quotation that comes from the legendary Pablo Picasso. He said, "I begin with an idea and then it becomes something else."
Standlee firmly believes being an artist is an ongoing journey. Looking back, she feels her own journey started in the fifties, growing up in a small Texas town.
She remembers watching a program about painting in elementary school that piqued her interest. She points to learning the craft of embroidery in vacation Bible school and even taking Home Economics in high school.
"I think all of these events build and help mold the artist to be," says Standlee.
CheckAdvantage is proud to present select works of Nancy Standlee on checks, address labels and checkbook covers as part of our Licensed Artist Series.
Standlee never plans to stop learning about art and creativity. She takes classes and attends workshops with other artists from all over the world. That's how she keeps her mind open to new ideas.
While art has been one of her passions for a long time, Standlee began focusing on painting after retiring from her work as a school librarian in 2000.
Now her paintings and collages can be found in juried shows and private collections all across America.
Standlee draws a lot of inspiration from working and interacting with other artists. One of her many interesting projects is a collaborative painting effort called Canvas by Canvas.
Standlee and a group of her artist friends in Texas each create a different section of a painting. It all comes together as one dramatic piece featuring a variety of unique artistic styles.
While Standlee enjoys learning, she also teaches and writes. She regularly leads workshops on art journaling and torn paper collage creation. Plus, she maintains her own blog and writes for other websites too. You can even find some of Standlee's creations featured in the popular 2012 book Painting with Mixed Media, by Paula Guhin and Geri Greenman.
Her art is full of brilliantly bold colors, which she hopes bring out positive emotions in those who see her work.
"I want the people to feel cheerful, joyful and smile," she says. "Maybe even think 'I might like to try that.'"
Learn more about this artist when you visit nancystandlee.com. You can order prints from her offerings at Imagekind.com and her collaborative works at Canvas by Canvas. Plus, you can like Nancy Standlee on Facebook for even more from the artist!