Natasha Wescoat
---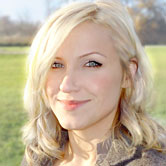 From the time she was just a kid, Natasha Wescoat has been on a mission...a mission to become a professional artist.
"I created my first comic when I was six. Developed my own little side art business when I was 12, and began a full-time career as a painter when I was 22," she says.
Mission accomplished.
All that drive has paid off, and Natasha is now a recognizable painter with a unique style that's sometimes described as a fusion of Art Nouveau and post-Impressionism.
CheckAdvantage is thrilled to present select works of Natasha Wescoat on checks, address labels and checkbook covers as part of our Licensed Artist Series.
As a young girl, Natasha's big dream was to become an animator for Walt Disney Studios. It didn't exactly work out that way. But you can see her artwork in both television and movies.
Her paintings have shown up in films like Marley and Me, and on the Lifetime Network. In 2006, her art was used to help redecorate a dream house on ABC's Extreme Home Makeover: Home Edition.
Natasha mainly uses acrylic paints, but she also works with colored pencils and ink. Every one of her paintings seems to explode with vibrant imagery. She calls it "whimsical and energetic."
"I like to create a lot of movement in my pieces. It's like candy," she adds.
Some of Natasha Wescoat's most popular pieces feature her signature Jeweled Trees. These colorful swirling designs can be found in high-end boutiques as well as on products at major retailers like Target, Barnes & Noble and Bed Bath & Beyond.
She hasn't forgotten all the hard work it took to get where she is today. Natasha is more than happy to give out tips and advice to up-and-coming artists and designers who share her dream. She's written about pursuing an art career for Mashable.com as well as on her blog Fresh Gloss.
Natasha wants her art to bring excitement, happiness and inspiration to those who view it. But she also paints to express herself and entertain her own curiosity.
"I have always had the hunger to create something from my imagination that I wanted to see. If someone wasn't making something I wanted, I'd make it myself," she says.
Find out more about this artist at wescoatfineart.com. You can also follow Natasha Wescoat on Facebook to keep in touch. Plus, check out her latest project, a children's book series featuring a character named Charlotte Lively.