Robb and Bette Durr
---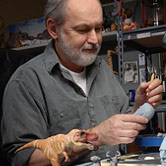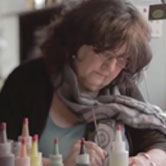 Robb and Bette Durr are a husband and wife artist team who met in art school over forty years ago.
Over time, they have designed toys, cards, magazines, stage sets and now fairy garden accessories together. Robb has also created large public and private sculptures that can be found in parks and private collections.
They both always wanted to be artists of some kind. Robb says, "I think it's just something that is in you. You want to make things. You have to make things. If I'm not in the studio for a couple days, I start getting nervous."
And Bette definitely feels the same way adding, "And I think art is something, that as an artist, you are entrusted with. To make something good; to make people think about something, or just to be happy."
CheckAdvantage is proud to present select works from Robb Durr on our checks, address labels, and checkbook covers as part of our Licensed Artist Series.
Their popular line of fairy doors and garden accessories known as, HiddenWorlds began when Bette planted a fairy garden and needed a door for her tree fairies. She and Robb designed their first door in 2009. Robb, a sculptor, sculpts all their designs, makes the mold and casts the piece in resin. Bette then paints each piece with vinyl based paint.
They have a line of many whimsical and beautiful fairy garden accessories and it is ever-growing! Their doors can be found in gardens across the United States and as far away as Australia."Making the fairy doors as an on-going thing just kind of happened," Bette says. "We made a few things for ourselves and then we had an open studio show coming up, and we said, 'hey maybe someone would buy these!', and they did!! We started selling on-line after that show and it snow-balled from there."
What they enjoy about this aspect of their careers is the feeling that they can help others be creative by supplying them with the tools to make their dream garden come to life.
"Many of our customers are making a fairy garden for themselves or their children or their grandchildren. It's this creative thing they embark on. They have an idea to create a magical realm and we can have a part in it. It's a cool thing."
They are excited to partner with Check Advantage to create HiddenWorlds fairy garden checks. "Even if you have to pay the bills, you have a little magical world to look at while you're doing it, Bette says.
If you would like to see more of Robb and Bette's work, visit their website at hiddenworlds.us/index.html or check out their Etsy Store.