Robert Hinves
---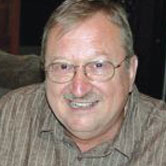 Great artists tend to create and capture treasures that bring us joy, let us feel at peace or make us nostalgic.
The art of Robert Hinves depicts bucolic buildings and rustic scenes in the outdoors. It's something Hinves wants people to celebrate and remember as long as they can.
"So many wonderful landscapes are disappearing, and it's quite a shame," he says.
Yet even as the old barns break down and the surrounding countryside is developed into suburbia, Robert's artwork aims to keep that imagery alive.
CheckAdvantage is proud to present select works of Robert Hinves on checks, return address labels and custom checkbook covers as part of our Licensed Artist Series.
Hinves had an interest in art at an early age and pursued it in his education. He studied art for five years including a year at the Ontario College of Art and Design. Today he is an active member of the art community in and around Toronto - serving on the Board of the PineRidge Arts Council, and as a member of the Oshawa Art Association and the Art Guild of Scarborough.
He started his career painting with oils. However, today Hinves chooses to use mostly pen, ink and watercolor on illustration boards.
"The effect that comes with the combination of mediums is very gratifying to me," he says.
First - he takes his camera and heads into nature, trudging through fields to find the perfect scene or subject. When Robert finds something, he snaps a picture and takes it home to recreate what inspired him.
"I love the character of old buildings and barns. I particularly like the contrast of light that comes from winter landscapes," he explains. And that's a good thing for an artist living in Canada!
When you view his art, Hinves wants you to remember "the good old days" and reminisce about a simpler time.
Discover more of his work at artofroberthinves.com where you can find out about his upcoming show as well as order originals and prints. Plus, you can also follow Robert Hinves on Facebook.