Robin Pickens
---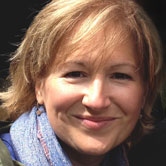 With a love of children's picture books and two artistic parents, it's no wonder Robin Pickens ended up where she did!
Her father was an automotive designer while her mother expressed her creativity through drawing, painting, silk screening, and sewing which created an artful household.
Robin keeps this with her as she runs her own business, managing her office, home, and family to craft a creative, happy life.
"Throughout my childhood I was always encouraged to learn and improve my artistic skills," she says. "I was fortunate in knowing what I wanted to do very early on and enjoying that path ever since."
CheckAdvantage is proud to present the designs of Robin Pickens on our checks, address labels, and checkbook covers as part of our Licensed Artist Series.
Before she had her own practice, Robin spent many years in the corporate world of broadcast, designing and animating graphics for TV shows while managing others. Though it had its benefits, the pressure was high and she felt called to return to more personal art.
"It came with rewards and prestige but also came with stress, long days, and a nagging sense that I was not doing what I came here to do, both in my message and my art," she says on her website.
Now Robin works in illustration, textile, surface design, and explores ways of sharing her vision through licensing her artwork. While she dabbles in various mediums, her most common methods are drawing with pencil or pen. She absolutely loves to draw, and keeps pencils and paper on her at all times.
When it comes to editing her artwork, Robin loves the flexibility of working with the computer. It allows her to change, rearrange, recolor, and reimagine her sketches.
"So I often work with a combination of the two mediums, which to me is a perfect marriage of spontaneity of hand drawing with the variety of layering on the computer," she says.
The designs she creates are modern with a traditional twist and contemporary with warmth. Ever inspired by the beauty of everyday life, Robin hopes that people are entertained, calmed, and uplifted by her pieces that focus on the small pleasures of existence.
"Daily life provides a multitude of inspiration. I think that is so important...to appreciate the simple things that surround us," she says.
If you want to see more of Robin's work, check out her website at robinpickens.com. You can also read more by checking out her blog.