Robin Wethe Altman
---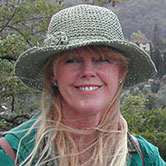 Through her work, Robin Wethe Altman doesn't just want to make you happy. She wants to give you a glimpse of a better world.
When she was small, Robin's parents instilled within her the beauty of nature. After viewing the renowned Audubon nature films, she would be filled with strong emotions. She knew she had to do something with them.
Today, she tries to bring her viewers to their own slice of paradise through her realistic works that have a whimsical spin.
"I've always been intrigued with the idea that heaven could be right here on earth, right now," she says. "I feel like I get peeks into that reality and I get the urge to show other people what it looks like."
CheckAdvantage is proud to present the inspirational work of Robin Wethe Altman on checks, address labels and checkbook covers as part of our Licensed Artist Series.
Robin comes from a family full of creatives, writers, and musicians. Her father knew she was going to be an artist by the time she was three when she loved to draw, paint, write, and play the piano.
Watercolors are Robin's tool of choice, though she does some work in oils and acrylics. While some artists find watercolors a tough medium to work with, Robin loves the freshness and transparency of the paint.
She is moved to create by many things such as the compassion she feels in the heart of herself and others, the innocence of animals, and her deep abiding love for nature's wonders.
"I have a deep appreciation for life in general and, when I paint, I can indulge that appreciation to an even greater extent," she says.
Robin hopes that her arts makes people feel happy, hopeful, and content. No matter how hard life can be, she wants them to know there is always something close by that is beautiful and virtuous.
"If people cultivate the habit of looking for what's good, they can expand that good and create a more fulfilling life," she says.
To see more of Robin's work, check out her profile at gregyoungpublishing.com/licensing/robin-wethe-altman.