Sara Berrenson
---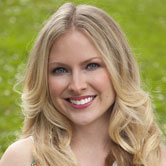 When she was little, Sara Berrenson carried her coloring book and favorite periwinkle crayon everywhere! (Her favorite probably because it was so fun to say, she admits.)
But after studying art at Cal Poly San Luis Obispo with a concentration in graphic design, Sara worked in a largely computer based graphic design world.
Before long, she missed the tactility of drawing and painting and started creating work of her own again. This eventually led her to licensing, where she finds herself today.
"As I started water coloring again, I realized how much I truly enjoyed the freedom of creating my own art," she says. "When I learned of the business of art licensing, it seemed to be a natural fit."
CheckAdvantage is proud to present the work of Sara Berrenson on our checks, address labels, and checkbook covers as part of our Licensed Artist Series.
Gouache and watercolor are Sara's mediums of choice. She finishes her work off with hand and digital illustration, marking an artistic style that is cheerful and colorful with a feminine flair.
Excitement drives Sara, with thrill and spark of new ideas fueling her to make beautiful things. They bring her joy, a feeling she hopes she can pass on to others.
"Every design tells a story and evokes a mood," she says. "I want to capture those feelings and make them into something tangible."
Though she takes great pride in her transition into licensing her art, it's not without its challenges. She'll admit that staying organized and managing her time can be a bit tricky.
"It is easy to get swept up in a project and obsess over the littlest details," she says. "Sometimes I have to take a step back and realize "'Ok, it looks good. Stop messing with it!'"
In addition to her individual work, Sara is also a founding member of the group Art Licensing LA, a collaboration of six diverse artists who create fresh designs for every day products.
If you're looking for crisp, fun art with a feminine flair, you'll definitely want to check out Sara Berrenson. After all, who doesn't love periwinkle?
Visit Sara's website at saraberrenson.com to see more of her art. You can also check her artilencsingla.com and follow her Pinterest boards.