Sarah Faulkner
---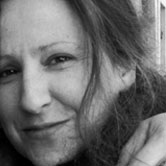 Sarah Faulkner spent her childhood on a farm in Virginia. It was a time when she says she enjoyed "ultimate freedom, simplicity and imagination."
Sarah calls that period "the barefoot years."
As a nationally recognized artist, she strives to capture the same freedom and simplicity in her works of art.
CheckAdvantage is pleased to present select works of Sarah Faulkner on personal checks, address labels and checkbook covers as part of our Licensed Artist Series.
Sarah has spent time all over America - experiencing the nation's beauty on both coasts. She studied art history, architecture and visual arts at Northeastern University in Boston, and then moved out to Northern California. There she was inspired by the region's striking landscapes and rich culture, and became actively involved in the Bay Area arts community.
She's also lived in Santa Fe, New Mexico where she experienced the scenery of the Southwest and was the director of a gallery and sculpture garden.
Today she has returned to the east and has made a home in Asheville, North Carolina where the magic of the Great Smoky Mountains inspires her to paint.
"In my work, I use wax to create an atmospheric quality," Sarah explains. "I chose this material to duplicate the mist, which casts over the mountains outside Asheville."
"My intention is to create work which will inspire joy, peace and contentment," Sarah says. "I try to capture the simple and beautiful lines found in nature."
Find out more about this artist when you visit sarahfaulkner.com. There you will find links to a variety of galleries and nationwide retail stores, featuring Sarah Faulkner's art.