Sharla Fults
---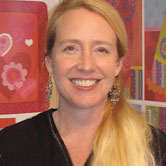 Color, color, and more color is the first thing you'll notice about Sharla Fults' art.
She spent years working with big names like Disney, Warner Brothers, and Nickelodeon and you can see a mastery of character and illustration in her work.
Today, she runs her own licensing business and you can find her designs on kitchen textiles, tabletop ceramics, greeting cards, and even gift bags.
"My art is lyrical, playful and above all, happy! My endearing characters make people smile and take them back to a simpler time in their lives," she says.
CheckAdvantage is happy to present select works of Sharla Fults on our checks, address labels, and checkbook covers.
From a young age, Sharla loved making drawings, cards, and gifts for her relatives. This love of art deepened when she took portrait drawing classes at the Kalamazoo Art Institute. Before long, she graduated from Western Michigan University with a degree in graphic design.
Her first major gig was at a party goods company. Before long, she landed herself a job licensing products for The Walt Disney Company. She even got to travel to marketing meetings at their NY and CA headquarters.
"Let me tell you, Disney knew how to throw a movie launch party!" she says.
Sharla's career path shifted when she felt a desire to get back to her roots and start creating original art again. She started taking watercolor and acrylic painting classes. Incorporating her skills with her newfound love of Photoshop, she opened her own business in 2004 and never looked back.
"I love being my own boss and working in my studio," she says.
Sharla spends her days creating everything she's inspired by. She loves seeing how high fashion translates into everyday trends, but also draws inspiration from nature, texture, and color. No matter what she makes, she hopes to bring joy to everyone.
"I want people to feel their lives are a little bit brighter and more inspired by owning my products. I love to see my art make others smile, to feel joy and happiness!" she says.
To see more of Sharla's work, visit her website at sharlafultsdesigns.com.