Sonya Paz
---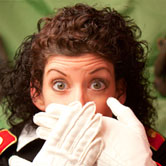 Driven by an undying thirst to make art, Sonya Paz has long been blazing a wild new direction in Pop Art.
Even after years of producing art for festivals, wine labels, and even working with charities such as the National Breast Cancer Foundation, her passions have never wavered for a moment.
"I create out of need - the desire to design or create something that others will cherish is rewarding," she says.
CheckAdvantage is proud to present select work from Sonya Paz on our checks, address labels, and checkbook covers as part of our Licensed Artist Series.
Sonya works in an array of mediums: acrylic painting, collage, assemblage, glass, torchwork, soldering jewelry, and designing textiles.
Over the years, she's traveled the world to study art and its history and the influences invariably sneak into her work. More traditional elements from cubism and surrealism compete with modern elements. Her style is a kind of colorful Cubist style infused pop art—definitely unique.
"I like to reflect on the various styles of art that have been critiqued or challenged in their time, these have truly marked a place in history for art," she says.
With a long career, she's had pieces in a number of wine and art festivals and even made the cover of the Vine Times for 2004 and 2005.
As for her more recent accolades, she was selected as the California Senate, 11th District "Artist of the Year" for 2009-2010 and picked by the City of Campbell to represent the "Orchard City Organics" agriculture project.
Sonya even owned a full retail art gallery for a time! Ever the people person, she struggled to remain creative while still visiting with the showroom guests.
"It was a great experience, but I prefer to work in the studio now and take studio visits by appointment - it makes the customer experience more special!" she says.
Through it all, her proudest accomplishment is simply that she's managed to sell her art to collectors over the years. It brings her great satisfaction to think of her art being greatly loved and hanging in someone's home.
To learn more about Sonya Paz, check out her website at sonyapaz.com. You can also follow the links to get the latest news on her work and check out her art marketing for other artists.