Sue Zipkin
---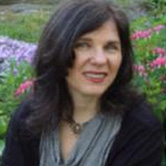 When Sue Zipkin was a child, she felt out of place in public school.
"I have dyslexia," she explains. "And when it came to academics, I would struggle. Art was something that just clicked for me at a very early age."
Sue knew she wanted to be an artist from the time she was five years-old. Artists – especially those dealing with learning issues – tend to see the world a little bit differently. Sue views her unique perspective as a gift, and calls art her "savior."
Today, her eye-catching designs have developed a national following with colorful creations that adorn everything from greeting cards to dinnerware.
CheckAdvantage is excited to present select works of Sue Zipkin on personal checks, address labels, and checkbook covers as part of our Licensed Artist Series.
During the late '80s, Sue was working as an in-house designer for a well-known company. But she had a dream of working for herself, and a passion to see her art on all sorts of products.
Despite warnings that it wouldn't be easy, Sue chased her dream. It has paid off. Now her artwork brightens homes and lives all over the country.
"I have been told over the years that my artwork brings joy to people, and makes them happy. That's all I could ever ask for, to know that my art is something that helps people feel good," she says.
Much of Sue's art is painted with watercolors. She also tries out other mediums, including the use of Photoshop to put finishing touches on her hand-painted pieces.
"I experiment with changing colors, textures, layers of different elements that I have painted," she says. "I'm always trying to develop new ways to create my art, while maintaining my general style. I feel that as long as my aesthetic stays the same, I can play with the mediums."
Sue draws inspiration from nature as well as her family. Plus, she is always checking out the work of other artists and designers, and says she loves using Pinterest.
"For years I would rip things out of magazines and file them. Now I can do the same thing but online. It is endless, where I can find inspiration," she says.
Discover more about this artist and where to get her art on other products at suezipkin.com. You can also read Sue Zipkin's blog. Like her on Facebook and Follow her on Pinterest.