Supie Davis
---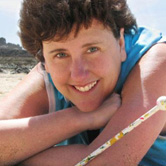 Supie Davis put her artistic interests on hold when she started a career in business, but things changed when a series of cancer treatments left her hard-of-hearing leading her to depart the corporate world.
It was the beginning of a new life for Supie as she rediscovered her passion for creating and spent years perfecting her sand scribbles and selling her art in street shows.
Today she is a proud self-taught and self-sufficient licensed artist, who has refused to be influenced or changed by anything that isn't true to her.
"From a young age I absorbed anything and everything that involved creativity," she says. "As a self-taught artist, I never had to worry about people telling me my ideas weren't possible."
CheckAdvantage is proud to present the work of Supie Davis on our checks, address labels, and checkbook covers as part of our Licensed Artist Series.
Everyone has taken a moment to write their name or a word in the sand before, but you've never seen designs as intricate or uplifting as these.
Though Supie's "sand scribbles" are made simply with a stick, sand, and a camera, but are packed with an amazing emotional punch. Supie says that if it can be drawn on paper, she can replicate it in sand.
Both the unpredictable and abundant nature of her medium has a great impact on her work. Though some designs get washed away, she can also work whenever she feels moved. As long as there's sand, of course.
"Working with sand leaves me at the mercy of the tides and the weather. I love to travel and the thought of having to always be on the coast was a challenge," she says. "However, after a long road trip to the mountains, lakes and desert I realized where there is sand or dirt, I can scribble."
Ultimately, Supie's greatest desire is to get in touch with the soul of the viewer. She hopes to make a difference in the way they perceive their life, no matter what that might entail.
"Whether it be spiritual, emotional or just their funny bone I like to see people's reaction to such a simple concept," she says.
To see more of Supie Davis' work, visit her online profile on the licensing website or personal website sandscribbles.net. Follow Supie on her Twitter, Pinterest, YouTube, Linkedin, or Facebook page.