Tara Reed
---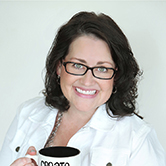 Tara Reed took a crafty hobby and turned it into an artistic career. She calls herself "an artist by passion and not education."
"From a very young age I was painting, cutting, pasting, sewing... it wasn't until I was in my 30s that I had the dream of making art my profession," she says.
Today she brings her fun and sassy designs right into people's everyday lives by creating original artwork for products you use all the time. She says she wants her designs to connect with consumers.
CheckAdvantage is excited to present the artwork of Tara Reed on personal checks, address labels and checkbook covers as part of our Licensed Artist Series.
When scrapbooking became a popular pastime in the 1990s, Tara fell in love with the artsy activity.
''I was a stay-at-home mom and scrapbooking became my somewhat obsessive creative outlet," she recalls. "I then looked into designing products for scrapbookers, and that is how a hobby turned into a profession."
Tara even became a contributing editor for Simple Scrapbooks Magazine. By 2004, she had formed Tara Reed Designs Inc. and debuted her work at her first art licensing show. Since she got an education in marketing, art licensing allowed her to use both her degree and her creativity.
"I think my business background and creative side make licensing the perfect fit for me," she says."I love the challenge of creating collections of art that can work on products - my goal is to create art that makes people happy."
She also shares her knowledge with other aspiring artists. Tara runs a family of websites teaching others about the art licensing industry, including ArtLicensingInfo.com.
Most of Tara's art is created by hand using watercolor paints. Then she uses digital editing techniques to create delightful collections of images, borders and patterns.
"I love to play with lots of themes and a variety of styles in my work. It gives me a lot of creative freedom," she says.
Tara lives with her family in Portland, Oregon where she has a studio that she calls one of her "favorite places in the world."
Find out more about this artist when you visit tarareeddesigns.com. Plus, you can also Like Tara Reed Designs on Facebook to keep in touch with her.