Theresa LaBrecque
---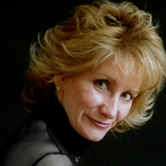 It was Pablo Picasso who said, "Every child is an artist. The problem is how to remain an artist once we grow up." Theresa LaBrecque seems to have cracked the code and tapped in to her inner child.
The New Hampshire based artist is recognized for her whimsical paintings and charming ceramics.
Each work has a healthy dose of imaginative allure, which makes LaBrecque's art unique.
CheckAdvantage is excited to present select designs of Theresa LaBrecque on personal checks, address labels and checkbook covers as part of our Licensed Artist Series.
LaBrecque grew up in a home near mossy woodlands where she would spend her days playing and making friends with the animals. She built fairy houses for tiny toads and hopped on the backs of cows grazing among the trees.
Artistic influence also came from within her family. "My mother was an artist," says LaBrecque." It seemed like magic to me. She would make something from nothing."
As an adult, LaBrecque spent time living in Cape Cod, trading the magic of the forest for the wonder of the seashore. That's where she built her career as an artist, even becoming known as "The Cape Cod Mermaid."
Mermaids and whales are two of LaBrecque's favorite subjects. Two books, Teatime with Mermaids and A Whale of a Good Time feature her oil paintings and poems.
She says "the softer side of life" is what inspires her to paint and sculpt. She wants her artwork to take those who view it to "unreal places."
"I hope it soothes them from their journey, and motivates a smile they feel in their heart as well as on their face," says the artist.
LaBrecque has since returned to New Hampshire where she now lives on a small farm with some goats, a small white rescue horse named Atlas, which she calls a unicorn, and her good friend Panda, a Bull terrier.
Discover more of Theresa LaBrecque's work when you visit labrecqueart.com. You can also check out her gift shop The Fairy Farm.