Timothy Bulone
---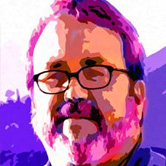 In a sense, we all grow up in the shadows of our fathers, and sometimes that can be intimidating.
Timothy Bulone managed to emerge not just from the shadow of his own artist father, but also his grandmother and his uncles. They were all painters, sculptors, designers and illustrators.
"The funny thing is that I didn't want to become an artist!" Bulone says. "I never seemed to have the natural talent they possessed and I gave up on trying to be or do anything artistic."
That changed when Bulone picked up a camera and learned how to artistically alter his photographs. "I knew it was my art because suddenly time ceased to exist when I was creating images," he explains.
CheckAdvantage is proud to present select works of Timothy Bulone on checks, address labels and checkbook covers as part of our Licensed Artist Series.
Bulone started out as a newspaper photographer. As his interest in the medium grew, he took classes in fine art photography and then began using photo editing software. He fell in love with the magic of blending photography and eye-catching visual effects.
"I hate the words 'digital art.' They feel cold and machine-like," Bulone says. I describe my work as photographic art and I think of myself, not as a photographer but as an artist working in photography."
While Bulone mainly uses his own photography, he occasionally alters other people's photographs on commission. He also enjoys playing with old photographs that are now in the public domain.
"I am especially attracted to the work of the photographers of the Farm Security Administration who were active from the Depression years through World War II. They documented life and business during years of tremendous economic instability," says Bulone.
His camera is never far from his side, and Bulone is always keeping an eye out for his next shot. Often he finds it in nature, but he can also be inspired by man-made creations like the ancient California Missions and vintage cars.
Bulone wants his artistic photography to open the eyes of those who view it, showing us what we might be missing by capturing it with his camera and enhancing it with his imagination.
"My images are simple, but what I really hope they do is capture some small part of that wonder in which we are surrounded. I think people are really ready to tap into this sense of wonder just a little more," he says.
Learn more about this artist when you visit timothy-bulone.artistwebsites.com. There you can order prints of Timothy Bulone's work and read his blog.