Ground Time-in-Transit Map from Wisconsin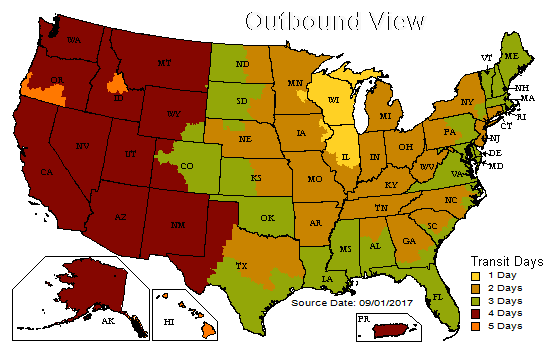 The Ground Time-in-Transit Map shows you the maximum number of business days your package will take to arrive by after it leaves our plant. Processing time for your order is not included in this calculation; so please do not base this off your order date, but rather your shipping date. Realize that there are sometimes circumstances where it will not be possible to deliver your package on-time. These are rare situations, but they do occur from time-to-time. Also be aware that holidays are often a busy time for shipping and it is always wise to order early if you have any pressing deadlines. Note that this map does not apply to express shipping methods. Thank you for your patience.
Need to see if our shipping rates are reasonable? Please see our Shipping & Handling Rates.
If you do not see what you need, contact us and let us help you find it.