Warren Kimble
---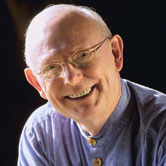 With more than 50 years of experience as a fine artist, educator, and antiques collector, Warren Kimble is renowned across the country and the world as "America's Best Known Living Folk Artist."
His timeless folk images of animals, rural landscapes, and buildings of Vermont capture the essence of America.
CheckAdvantage is proud to present select works with the designs of Warren Kimble on our checks, address labels, and checkbook covers as part of our Licensed Artist Series.
When creating his work, Warren paints on reclaimed wood for his canvas, including 18th-century tabletops or cabinet doors that have developed unique textual qualities over time. A warm and unique color palette adds to the feeling of serenity in his work.
Warren graduated with a BFA from Syracuse University and, after an early career in advertising, moved to teaching Art in public schools. He later joined the art faculty at Castleton State College.
Today, Warren lives in the western Vermont town of Brandon with his wife and business partner Lorraine.
Though he's formally retired, both he and his wife stay active in civic and artistic initiatives. Notably, they have worked together with other artists and community leaders to build the vibrant Brandon Artist's Guild, renovate the historic town hall, and rehabilitate a now thriving downtown.
Warren is appreciative of the recognition he has earned over his esteemed career. His work has been profiled in: Yankee Magazine, The Boston Globe, Vermont Public TV, and many other media outlets.
In 2002 he received the highest alumni honor from Syracuse University— the George Arents Pioneer Medal. And, just recently, he was honored to be named by Vermont Governor Shumlin as the 2013 Governor's Award for Excellence in the Arts.
To see Warren's work and learn more about him, check out his website at warrenkimble.com.