Working Girls Design
---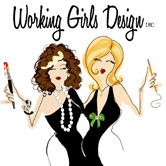 Jodi Pedri and Tonja Steel like to say that "every girl's a working girl."
Start browsing through their collection of humorous artwork and it won't take long to find something you can really relate to.
In this artistic partnership, Jodi is the illustrator while Tonja is the writer. The duo combines talents to bring their unique brand of light-hearted laughs and a spunky sense of style to life. They wouldn't have it any other way.
"We're both very creative and art and writing are both natural outlets for us," Tonja explains."It's not something we could just do as a hobby, it's who we are."
CheckAdvantage is excited to offer selections from Working Girls Design on personal checks, address labels and checkbook covers as part of our Licensed Artist Series.
Entrepreneurs at heart, both Jodi and Tonja found themselves unsatisfied writing and creating art for others. They first teamed up in 2008 at an art licensing show in Las Vegas. They started Working Girls Design just a couple of months before the show.
Jodi and Tonja say pretty much anything in life can become the inspiration for a new design. From marriage and menopause to pregnancy and parenting, no subject goes untouched.
"The Working Girls style of artwork is all women based, from fun and classy to cutting and sassy. We seek to represent women of all ethnic backgrounds, and it's quite fun to have our characters express things that so many other women identify with," Jodi says.
Working Girls Designs can be ordered on a wide variety of merchandise including pajamas, mugs and wine glasses, jewelry, calendars and many other gift items.
The gift-book, Mother of the Year, was illustrated by Pedri, and edited by Steel with hilariously priceless advice from real-life moms. The book was recently published by Willow Creek Press. It's available through Barnes & Noble, or you can get an autographed copy directly from Working Girls Inc.
Find out more when you visit workinggirlsinc.com and check out the online store. Plus, you can follow Working Girls Design on Facebook and even download their free iPhone app - Girl Frames to help dress up your personal photos.